BBQ at Union Beach
You have reached your destination!  After a long beach walk we suddenly catch the first kite school like an oasis in the desert. They are placed between shady palmtrees close to the shore made out of bamboo and palmleaves. The lovley garden invites to chill out and a huge green field offers space for resting and avoids any sand in your kite gear. Slightly exhausted and thirsty we can't wait to get the first St. Miguel beer and we launch into the small bar.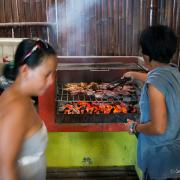 Our guys are looking for a fire place while the kids playing at the beach, sightseers explorer Union Beach and Prezel and Andy's wife preparing the local tuna and native chicken, a Philippine National dish. Café Tabou from Funboard Center has donate fresh salads, homemade bread and brownies.
As well at Union Beach the kite season slowly comes to an end. Only a few random winddays are left for the last ride on the kiteboard. We decide to leave our kite gear on the boot and enjoy the faineance, our BBQ and instead we have some small talks about wind-or kitesurfing at Bulbog Beach.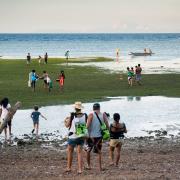 Our target is to arrive at White Beach before sunset. But the low tide has thrown a spanner into our plan... only slowly the water comes back into the bay of Union beach and our outrigger-boot is waiting 1km off-shore.  Luckely we have low tide- otherwise the daytrip has been rained off ;-)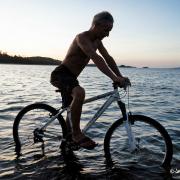 Stephan keeps the group in good mood and tries to reach the outrigger boot with his bicycle. No matter if you get wet feed while kiting or biking...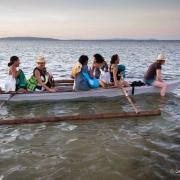 Without further ado Andy decides to cross the group with a small fisher boat to the waiting outrigger. As more our trip runs against the plan, the group becomes more funny and admires the natural manners of the philippine mentality.  Four times he has to cross the bay to board all group members without getting tired and keeps smiling. Loaded on board we are enjoying the sunset on our way back to Boracay. To watch the sunset directly from the water while having a chilled St.Miguel beer is such an amazing experience and creates the highlight of our daytrip to Union beach.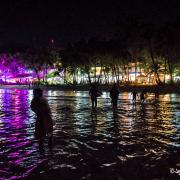 Luckely we arrive at White Beach after nightfall to recognize the beautiful chain of lights sparkling through the palm groves, reflected by the water. After one day at the unspoiled Union Beach we feel like living in a city.  But already next day we all agreed that Union Beach is worth to visit, but we all don't want to miss the huge choise on Boracay from Diving, Yoga, Wind-and Kitesurfing as well as swimming and dining at White Beach. We are looking forward to our next daytrip or downwinder to Boracay as well as coming back to Boracay for sunset :-)