Kitesurfing lessons on Boracay Island
Kite courses, training, and certificates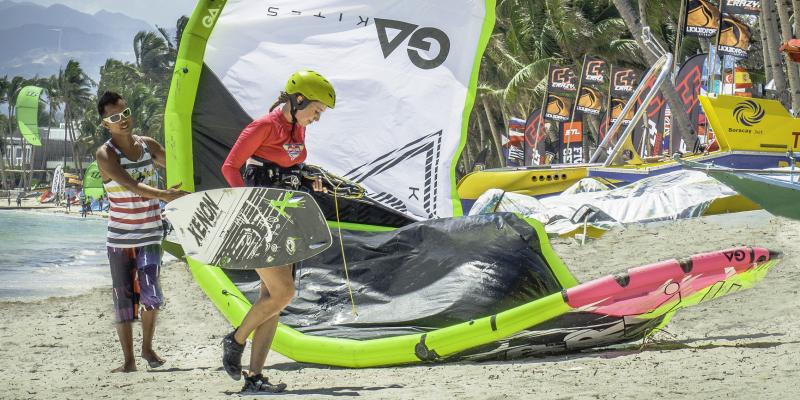 Naturally, we all learn at different speeds - so some students may need a little bit longer to really get to grips, others might be a bit faster due to some experience and knowledge of similar elements from other sports such as windsurfing. No matter what you will bring with you in terms of sportive experiences, we will make sure that you will get on the board and ride the water.
Kitesurfing is an extreme sport. So only extreme safety is the right key to get in the world of kitesurfing. The examples of courses below have been proven to be the best way to experience and learn kiteboarding in a short time with a maximum of safety and progress. If you decide to book a next level course, then no charge will apply for the first course. All lessons include equipment and safety gear.
Kitesurfing discovery lesson.
1 student - 1,5hrs; 2-4 students - 2hrs.
Php 4.800,-
The first introduction into this sport. Learn to fly a small kite and get some ideas of technique and material. Understand the basics of kite control and safety systems.
One day course Level 1:
1 student - 3hrs; 2-4 students - 4hrs.
Php 9.600,-
This one day course will teach you the basics and provide the fundamentals of kite flying. Understand the theory of wind areas, power zones and all aspects of the kite, bar, lines and the entire safety system. Fly the kite under your control and experience and enjoy body-dragging.
Beginner course Level 1 + 2 (incl. certificate)
1 student - 9hrs; 2-4 students - 12hrs.
Php 28.800,- 
The best way to learn to kitesurf. The three-day course is where it gets interesting - it's where you get up and move, flying the waters. At the end of this course, you should be equipped with all the skills needed to kite and no doubt be hooked for life!
Advanced course Level 3 (incl. Certificate),
3 hours
Php 7.200,- with your own equipment;  Php 9.600,- with school equipment
You have already made some first experience with kite surfing, but want to become a safe rider and able to go upwind, turn both sides and do first jumps. Upon request, the course can be conducted on an hourly basis: 1 hour - Php 3.200,- with school equipment and Php 2.400,- with your own gear.
All kitesurfing lessons will be held by certified and experienced instructors using the latest equipment from Gaastra. All lessons will be organized subject to the individual needs and requirements of the students. Fast results are achieved by just two students per teacher, ensuring quick progress and a maximum of safety and risk control.
Book your kitesurf lessons now!
Not sure? Find out 3 reasons to kitesurf with us on Boracay.