Sunrise-Windsurfing and Kiteboarding at Bulabog Beach
At Bulabog Beach you can see the first windsurfer and kiteboarder on the water before the sunlight will shed the early light on the bay. Flat water, consistant wind and clear runs make each early morning session- even without breakfast- to a fiull blast. Boracay counts its last days of the North-East-Monsun, Amihan. Within the next month the wind slowly turns to the the White Beach blowing from the South. Some of the kite schools will transfer to the other side and kite-courses are available during the off-season.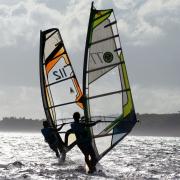 For this season Gaastra has designed colourful sails, which are sparkeling like butterlies on the Bay. Kites in bright colours are replacing the sun before daybreak. Funboard Center Boracay welcomes all early birds after their first kite-and windsurfing session for breakfast at Café Tabou.