Kiteboarding courses at Bulabog Beach
Bulabog Beach presents again it's bright side: Sunshine, clear blue sky and inviting wind condition for kiteboarding and windsurfing. Watertemperatur up to 26 degrees do not only warming the heart of every Windsurfer and Kiteboarder; but allows long kite-lessons without getting cold feet ;-)  Funboard Center Boracay is located at an expanded beach and gives all students more safty while landing and launching the kite. An offshore sandbar allows kite-teaching in knee deep water even if the water level gets high.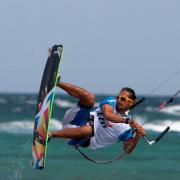 Tanner, our turkish kite-instructor, is a multi-awarded champion in kiteboarding and introduce all advanced kiteboarders to the first free style moves as jumps, graps or transitions. After a short briefing at the beach, Tanner sends the kite-student on the water while he will catch the first moves on video. Back onshore he explains the kitestudent- mostley with a fesh fruit shake at Café Tabou- incorrect kite or board control, well shown on the movie. Physical encouraged and mentaly prepared both go back to the water for more praxis. Satisfaction guaranteed!