Island-Hopping: Windsurfers on the way from Boracay to Camiguin Island
Good Morning Camiguin! On some low windy days kite-and windsurfers from Funboard Center Boracay headed down to the south of the Philiipines to explorer new kite-and windsurfing spots. After a 10 hours boat-trip from Cebu City to Camiguin they arrived in the early morning at the sleepy Island. The peaks of the 7 vulcanos looking quite unreal through the clouds. Not many people know that Camiguin is a hot plate with the highest concentration of burning mountains in the small island.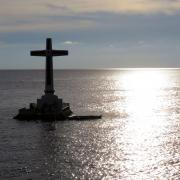 The history of the vulacanoes left marks of a Sunken Cemetery, Ruins of a Spanish Church, hot springs and streaming waterfalls of 75m hight. White Beaches as on Boracay are found offshore on White Island and Mantigue perfectly for swimming and snorkeling. Camiguin also boasts beautiful coral reefs and marine life. The Giant Clams Sanctuary is the home of over 2000 Giant Clams and let out team totaly forgot about windsurfing and kiteboarding ;-)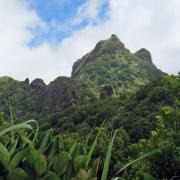 As the wind is still not strong enough to try windsurfing or kitebaording the team decided to climb on the highest vulcano on the island. Hibok-Hibok belongs to the more d1300m. Climbing Hibok-Hibok is quite challenging for a daytrip and takes 3-5 hours to reach the peak. Don't forget to come all the way down ;-) In total 7h hiking was a big challange for our board-experts. They havn't been using there legs for quite a long time ;-) Reaching the peak they could see the mossy crater of the volcano, Bohol, and even Surigao at the east, one of the most famous surfing spot in the Philippines.