Funboard Center Boracay arrives at Union Beach
After 40 min cruising alongside the legendary White Beach, passing around the north corner of Boracay Island as well as Crocodil Island, we are on target for Panay. The white sand of Union Beach, the new kitespot not far from Boracay, is the first we can catch. Three kites schools have been established and welcome every kiteboarder, who has started a downwinder from Bulabog Beach. They offer drinks, snacks, and accommodation for kitesurfers, who wants to stay overnight.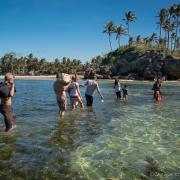 All kitesurfers appreciate the shallow water at Union beach. The smooth surface invites to try freestyle moves and knee deep water simplifies the kite courses. Just our local boatsman was not so happy when the keel got stucked and the group had to leave the boat 500m before Union Beach. Like someone shipwrecked our group took all their belongings and wade through the flat water. Everyone enjoys the litte unexpected adventure. The Funboard Center Boracay offers daytrips and downwinder from Bulabog to Union Beach.
The long walk to the first kite school passes long stretches of unspoiled strandlines. Fischerboats are parking inbetween palmtrees close to the white beaches. "Tropical Island pure" reminds at Boracay 10 years ago, when accomodtion, restaurants as well as Kite-and Windsurf schools were still rarity. These days White Beach belongs to the most popular vacation destination and offers international cuisine, accommodation in all price ranges and more than 10 professional wind-and kitesurfschools.