Kitesurf Clinic Boracay from February 02-14, 2015
After much success with our first KITE-CAMP which combined kitesurfing, progress, yoga, relaxing and bundles of pleasure in one package, Funboard Center Boracay will create a new Kitesurf Clinic for intermediate and advanced kitesurfers. Our next camp in February is aimed at those who want to progress and step up to the next level. Taner Aykurt, six times Turkish Freestyle champion with 14 years teaching experience from beginners to accomplished advanced, will guide you to set new goals. These will improve your riding style and so keep your kiting flame alive and will help you to achive your next progress to higher jumps, different transitions, unhooked tricks, Railey, kiteloops or whatever you fancy learning. The Camp offers 5 days of kitesurf coaching, down-winders, freeriding, daily yoga classes and free time for relaxing. All these experiences will make your kite surfing holidays outstanding. The camp is a modular system so you can choose kiteboarding with daily yoga. We welcome non watersports companions to join just the yoga. The finale of the camp is the sunset cruise for the group around the island with traditional Philippine BBQ at White Beach. The number of participants is limited. Book now to avoid missing out...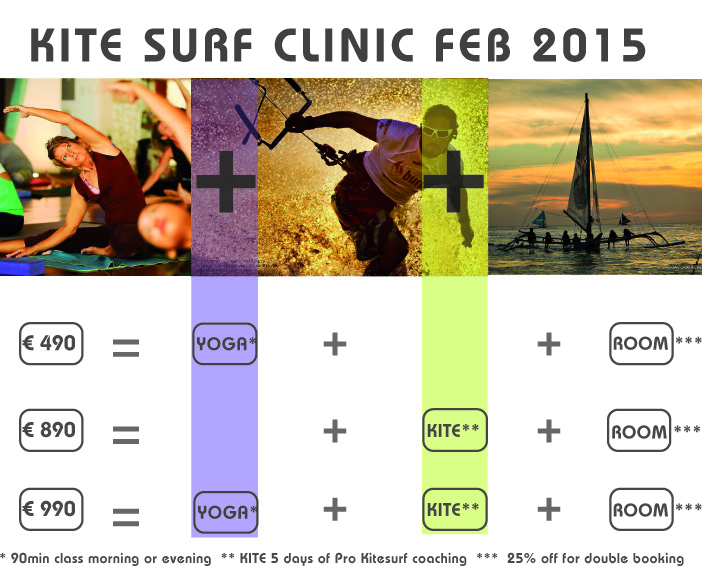 The KITE SURF CLINIC includes:
5 days of Pro Kitesurf Coaching. Each day is based on 3-4 hours of coaching by one of Turkey's most successful kitesurf  instructors and Pro Riders Taner Aykurt.
1 hour of theory combined with symulated land training: this includes the understanding of specific concepts and the key points of tricks.
1st session of the day 1h riding with the instructor
Free practice : We will video you during your practice time.
2nd session of the day 1h correcting mistakes and riding with the instructor.
Finale of the day : Watching the footage – analysis, instruction and encouragement, while having our beers :-)
Video Analyse
Video analyse is a great tool to realize your kiting potential...you can keep the footage as a memory.
Accommodation
All packages include 7 Nights accommodation in the unique Reef Retreat just 5 min walking distance from our center. Your breakfast will be served in Café Tabou at the Funboard Center. We will arrange the kitesurfing classes together with your coach to personaly suit you.
Yoga Programme with Markus or Simone
The yoga classes are taught in turn by two very accomplished Yoga- teachers. Markus combines perfectly matched yoga poses to a harmonious and flowing sequence of movements.  Simone will offer custom-made yoga-classes to prevent any shoulder or back problems.
2 Free Days
down-winder
free riding
massage, relaxing
Party time
A group BBQ at the station( inclusive)
a sailing trip around the island and group sun-set dinner ( exclusive) at White Beach will complete the KIRESURF CLINIC
The number of Kite Clinic participants is limited to 10 students. We have designed a special yoga-package for all NON kitesurfers to join. Previous knowledge of Yoga is not necessary!
Supplements
Kite rental € 325,-          
Kite storage  € 45,-
Massage € 10,-/hour