Gido and Gilbert are the best windsurfers on the island and belong to the Philipine National Team. After finishing high school both of them started to work for Funboard Center Boracay as windsurf instructors. Gilbert and Gido are racing on the F2 XS Slalom- the 91l carbon edition. They are light as papers and fast like a rocket. Both of them are fighting to be under the top 5...  As Simone has less competitors in the womans class, she will compete with the Tabou S3. Not the fastest board, but easy to handle in the jibe...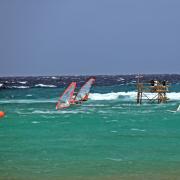 The fist step is the starting line where you have to find the perfect timing to cross the line when the green flag comes up. If you are ahead you defenitely got disqualified. If you are to late and pass the line with the crowed, you might be in the windshadow of others windsurfers. Make sure you do not have to many other sailors in front, as the surfboards will create chopy water and some crashes at the first bouye...Gilbert is the first windsurfer crossing the starting line in this heat ( red Gasstra sail). Simone is quite late, but still the first woman (Green-white North-sail) and belongs to the first 8 sailors passing the line....
On the following pictures you can see Gilbert, Gido and Simone from Funboard Center Boracay in the race jibing at the bouyes. Even Bulabog bay is a home game for them, choppy water and other windsurfers at the same bouye make every single jibe to an acrobatically move.