One oft he biggest and spectacular events on Boracay Island was hold the last week at Boracay's beautifull White Beach. The 7th international Dragon Boat Race was gathering more than 1000 international paddlers from all over the world.
Boracay's  Kiteboarding and Windsurfing season at Bulabog Beach became slowly to an end and many  kiteboarders and windsurfers went over to White Beach for the daily training at 6pm in the morning to keep in shape and get ready for the race.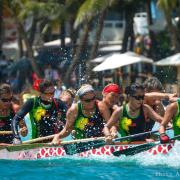 Bugsay Boracay is one oft he oldest women's team from the island and has joined the annual races since White Beach has been hosting this race in 2001. This strong team is built by many islanders with natural strength as well as by many kiteboarders and windsurfers from Bulabog Beach.  Olga and Simone - both coming from kiteboarding and windsurfing- create the engine in the back of the boat.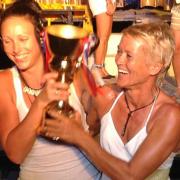 Paddle hard- party harder! Finally 3 month efforts of daily training, early sleeping and lots of back pain was honored with  2 x Gold in 500m Women and Masters, 1x Silver and 1 x Bronze in 250m. Well don ladies!