Bulabog Beach is still blessed with nice windy days. Just enough wind to make all windsurfers and kiteboarders happy. This week we will finish our last windsurfing course for intermediate windsurfers in jibing as the Carve-, Laydown or Duck jibe. Gido is the local windsurf instructor of Funboard Center Boracay. He has almost grown up on the surfboard and cruising the duck jibe as others riding a bike.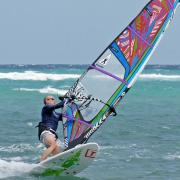 It is still a big issue between many windsurfers, if the Carve- or Duck jibe is easier to learn. However- we still believe that the windsurf student should have some experiences in jibing and our windsurf instructors would never teach any other jibe frist. The duck jibe is definitely more stable in the carve as long as you will shift the sail in the right angle between 45 and 90 degrees and your body weight is centered forward. Too much weight on the back will shoot your windurfing board out of the water and you will loose control.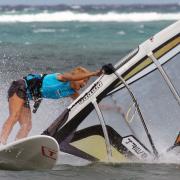 So, don't worry if you do not progress in the first windsurfing-lesson. Nobody is perfect! Even our most experienced windsurf instructors failing once in a while ;-) As long you have fun while learning, the progress will come soon. Funboard Center Boracay will be closed from mid of April untill end of October. We all hope to see you next season on Boracay for another step into windsurfing or kiteboarding.