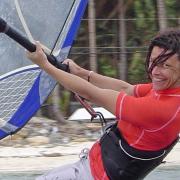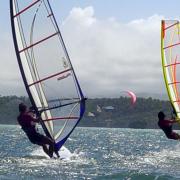 Two month vaction ahead in Asia which also includes 5 weeks of windsurfing at Simone's Funboard Center Boracay in the Philippines. I met Simone many years ago in Greece where I used to have a windsurfschool. As we both are passionate windsurfers we stayed in touch over the years and met on different spots just to get a good ride together.
You could call me a "soul windsurfer" and I was always arguing that kite boarding is nothing for me: no time, too much fun windsurfing, to lazy starting all over again....
So with not much of an interest I was looking at all the kitesurfers at Bulabog Beach while I was happily carving my jibes and tacks in the sparkling blue water. However with a lot more interest I observed Simone and was definately impressed how easy she seemed to steer her kite over the water. There was so much lightness, power and elegance to see. Not bad, I was thinking, but then forgot again...
... but there was also this guy called Fritz: Every morning I am looking at his huge smile - that almost goes from one ear to the other - when he gets off the water after his morning kite session. Pure delight, enthusiasm and fun!
And there I was sitting on the beach with blisters on my hands and realised that I am starting to get a little bit jealous. And I was suddenly remembering the old times when I was struggeling and swearing on Maui and then finally managed my first jibe and I also remeberd this overwhelming feeling of happiness!
Probably this was the moment when I registered for a kiteboarding class, which will be starting tomorrow. Whatever will be coming, tonight after two encouraging mango daiquiries, I am looking forward to a new experience and a little bit of flying away.... Karin