Boracay's best accommodation
As mentioned the last time, today we want to draw your attention on some accommodation on Boracay. Of course we picked first of all resorts, apartments and hotels on Bulabog Beach and hope we can provide you with a good selection for all kind of budgets: The main advantage at Bulabog Beah compare to the White Beachh is the easy access to the Kite-and Windsurf scenery, as well as a quite evening ambience and a permanent light breeze replacing any aircon. Last but not least the amazing sunset for all early birds!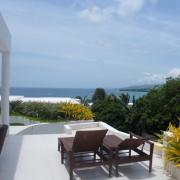 Cohiba Villas This resort probably has the best view on the whole island and surely the biggest apartments in which to stay in. The huge 40 and 40m2 balconies mean you never miss the kite-and windsurf activities at Bulabog Beach. And if you are too lazy to walk to White Beach, you can easily take the free shuttle scheduled every hour to the mall. Alternatively stay home and prepare your own meal in the well equipped kitchens available in every apartment.
Bahay Boracay is located on a small hill and offers quite unique 2-level apartments up to four-berth with private kitchen facilities. Large window screens allow a spectacular panoramic view over Bulabog Beach and bring light and fresh sea air in all rooms. Levitating stairs and galleries gives all rooms airness and a puristic design. It's hard to top this...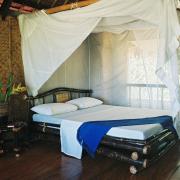 Ralph's Place belongs to the first resorts at Bulabog Beach just behind Funboard Center Boracay elevated on a small mount. They offer many different types of bungalows, studios and apartments surrounded by a beautiful garden. All type of accommodation were built with native materials combined with a western style. We think this is one of the last typical resorts with the charme of a philippine design from the early years.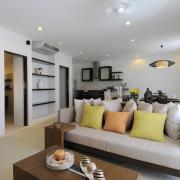 7 Stones Boracay If you are looking for a more  luxury place then 7 Stones is the place to go. Each of the 28 rooms is equipped differently and offers space for 2 to 6 people. You can have a rest on the swimming pool right in the middle of the complex and at the same time you don't miss the action happening on the water. Funboard Center is reachable within a short walk in northerly direction, not even 3 minutes walking distance.
 

Blue Bayou is the ideal place for all of you who are not sure if you wanna stay on White or Bulabog Beach.This small philippine complex offers single bungalows in a beautiful garden. Each freestanding cottage is the perfect combination of modern accommodation and native flair with its loft-bedroom, kitchenette and spacious veranda.The resort is situated an ideal 100 meters away from Asia's best windsurf and kitesurfing spot Bulabog Beach and is only a 10-minute walk away from the island's famed White Beach.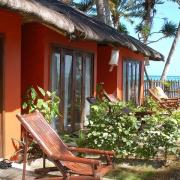 Surfers Home Not far from our Kite-and Windsurfstation this guesthouse is a far cheaper place to stay. The 8 rooms are simple but nicely equippeds and all have a private balcony or terrace. After every single kite-or windsurf session you can either relax in the hammock or coffee shop placed inside the beautiful garden.
 
Are you still more for a place on White Beach to spend your holidays? Well, there are more then hundred alternatives: Starting with the top hotel on the island, the famous Shangri-La Boracay Resort & Spa which is offering its guest a private beach, the brand new Diniview at Diniwid Beach with all villas located on the hillside with a perfect view of the famous Boracay sunset. Or the first 5 star-hotel, the Fridays Beach Resort. All rooms are built directly at the famous White Beach in a typical philippine bamboo cottage style with an easy access to the sea or all restaurants and bars at the beach. The options are never ending, but surely everybody will be able to find a proper place. Just drop us an e-mail if you have any further questions, otherwise you can read about KTA, the most famous Kiteboarding Tour Aisa on Boracay in our next Blog.