Accommodation
A place to stay directly at Funboard Center Boracay
Ocean View Apartment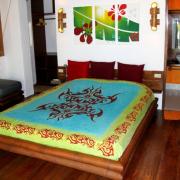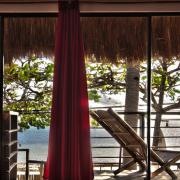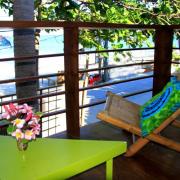 Our apartment is directly located on our surf station, just 5 meters from the beach. You will find a modern and contemporary 2 person apartment with a great view of the lagoon. This is for sure the shortest distance between bed and board. The apartment has a bathroom with hot water shower, a walk-in cabin, kingsize bed, WIFI, fridge, safe, balcony and spectacular sunrises.
Prices from 45 Euro per night including breakfast and kite storage. For more details please get in touch with us.
We also recommend...
Reef Retreat Resort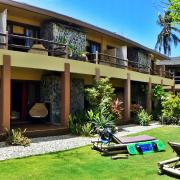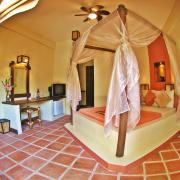 Just a stone's throw away from our center, is Reef Retreat Resort. This very popular "Tripadvisor" award-winning resort, has Charming rooms and Apartments of a high standard. With Sea or Garden views, they are designed with Windsurfers, Kitesurfers and their partners in mind. Set in Tranquil Tropical Gardens, Reef Retreat is built to European standards incorporating a Tropical Island feel. For Romantic getaways please request one of the double rooms which have a large Four poster bed. All rooms have A/C, Cable TV, Free Wi-Fi, Minibar, Hot / Cold Shower, Ceiling Fan, daily housekeeping, high-quality pure cotton linens and private veranda / Balcony. Additionally, the apartments have a fully equipped kitchen and separate lounge area. Connecting family rooms or apartments are also available upon request. You can step out of bed and into your footstraps!
Prices start from only 65 Euros per night.
Bahay Boracay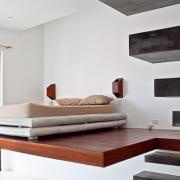 Just 5 minutes walk from our station on a small hill you find the new apartment house Bahay Boracay. All rooms are modern and very stylish furnitured with WLAN and flat screen TV.  Large window screens allow a spectacular panoramic view over Bulabog Beach and bring light and fresh sea air in all rooms. Levitating stairs and galleries give all rooms air and a puristic design. It's hard to top this...
Cohiba Villas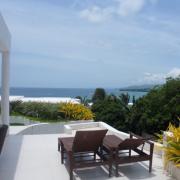 Cohiba Villas- This resort probably has the best view on the whole island and surely the biggest apartments in which to stay in. The huge 40 and 40m2 balconies mean you never miss the kite-and windsurf activities at Bulabog Beach. And if you are too lazy to walk to White Beach, you can easily take the free shuttle scheduled every hour to the mall. Alternatively stay home and prepare your own meal in the well-equipped kitchens available in every apartment.
Ralph's Place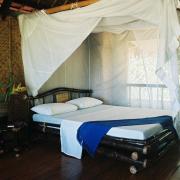 Ralph's Place belongs to the first resorts at Bulabog Beach just behind Funboard Center Boracay elevated on a small amount. They offer many different types of bungalows, studios, and apartments surrounded by a beautiful garden. All type of accommodation was built with native materials combined with a western style. We think this is one of the last typical resorts with the charm of a Philippine design from the early years.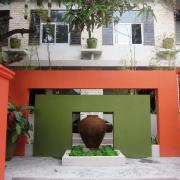 "Bale Mi", which means Our Home is the newest resort to rise on Bolabog Road, which leads to the equally world-famous Bolabog Beach, ideal for wind and kitesurfing. The Bale Mi Hotel is a truly delightful, romantic boutique hotel. A Total of 10 Rooms ranging from King sized beds to Two Queen bed set ups, Ample Room Space, Unique and Stylish accommodations, the Inn also has a Common Kitchen for Long Staying Guests. With its special central location and affordable rooms, Bale Mi Hotel will allow you to make the most of your tropical holiday. Monthly Rates Negotiable, Dailies from 45 to 65 Euros.
7 Stones
For more luxury accommodation we can recommend 7 Stones Hotel, just 300 meters away from us, directly located at Bulabog Beach.